ABA/Video Modeling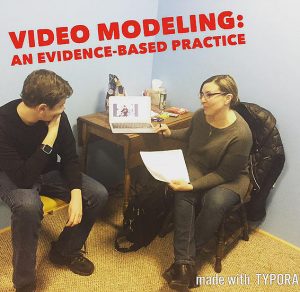 Are you looking for that next step to take with your child but not exactly sure what it is? The research supporting the use of video modeling is extensive and the science behind its effectiveness is strong.
Video Modeling is an evidence-based practice, based in behavioral principles (ABA). It's a visual teaching method that occurs by watching a video of someone modeling a targeted behavior or skill and then imitating the behavior/skill that was just watched.
At Living & Learning, video modeling is being used to teach social and employability skills to teens and young adults. Video modeling has been proven to be a highly effective means of teaching all people, especially learners with autism.
​Living & Learning is doing something with ABA that no one else is. We are working with teens and adults in a natural learning environment with video modeling. We have created a program that takes ABA/Video Modeling to a new level. We have been able to design a learning environment that allows our clients to master what is being taught and then in turn generalize the task in the community setting. This rarely happens with our population. In most cases, the learner will only master the task, in the clinical setting, but then is not able to apply this skill anywhere else.
​Most ABA programs are a one-on-one experience with their therapist. Our programs have been intentionally designed to promote social and emotional growth. One of the reasons our program is so successful is because we work in small groups, which allows for more socialization skills to occur.
We are currently forming groups for the winter. Groups fill up fast, so call today to reserve your spot. Client intakes will begin in November.​
If you would like information about this program, please call us at 248-308-3592.