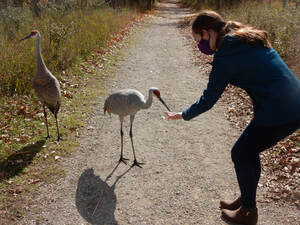 Who: Teens and young adults who are more independent
What: Bird club is designed to be an interactive birding experience where you can enjoy and learn about nature with friends. We meet every Friday from 12-1pm, and we strive to visit new places and see new bird and wildlife species. Once every month, for example, we visit Kensington Metropark, where we can observe and feed birds right out of our hands! 
When: Fridays at 12:00 PM – 1:00 PM
Where: Living and Learning Enrichment Center 801 Griswold St. Northville, MI
If you would like more information about this program, please call us at 248-308-3592.
Register for this Program